Otto-Eldred News
At Otto-Eldred High School, we appreciate our involved parents and community members. We also enjoy broadcasting our latest news and information here on our News page, where we will chronicle school activities and student achievements and publish announcements. We'll also offer helpful resources and information. So check back often, as we update it regularly.
Strengthening Families Program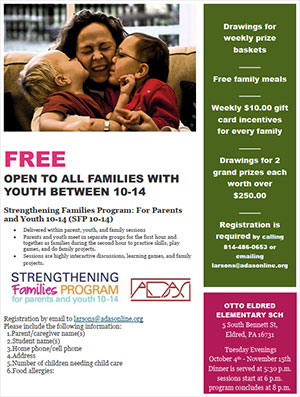 We invite you to participate in our Strengthening Families Program for parents and youth aged ten to fourteen. Parents and youth meet in separate groups for the first hour and together as families during the second hour to practice skills, play games, and do family projects. There will be drawings for prizes and free family meals. Please view our Strengthening Families Program flyer for details!
Parent Educational Support Group
The IU9 Local Task Force Parent Educational Support Group is calling all parents!
What is LTF?
The local task force is a group dedicated to special education rights. It is a place for parents, families, school districts, community agencies, and students to come together. IU9 Local Task Force includes districts from Elk, Cameron, McKean, and Potter counties.
They hold monthly meetings via Zoom, call-in, or in-person. Meetings will be held in Elk, McKean, and Potter counties. For more information, please view the LTF overview flyer or contact Ashley (Sterbank) Olson by email.